Shoten Armory and YOU
Today's society is much different than it was even ten years ago. Now more than ever, the present day shooter has to make sure that what they purchase is accurate, consistent, reliable and certainly versatile. Equally important, it has to be within their financial abilities. Since 1960 when the first Mossberg 500 rolled out of the factory, it was the clear choice in all respects. The cumulative training, education and experiences of the Shoten Armory Team have been successfully blended together in order to ensure that you as our customer will receive top notch workmanship and unprecedented customer support at a time when you need it most.
Our customers come first. We want to make sure your experience with us is trouble-free and smooth. The Installation video will make the installation of your new Shoten Armory Extended Slide Release Lever a breeze to get you out on the range!
For those who would feel more comfortable having a professional install your lever, we offer an installation service of just $35! Ship us your trigger assembly and in most cases we will have it modified and back in the mail within 24 hours!
How easy is that?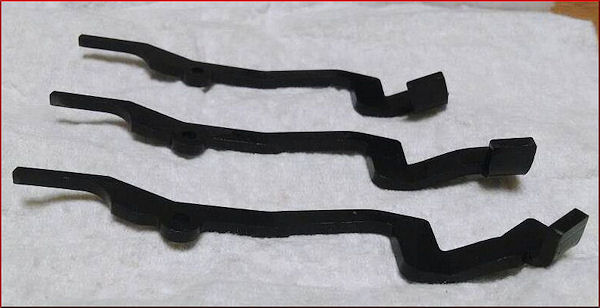 TOP
Short Arm Extended Slide Release Lever. Excellent for those with larger hands.
MIDDLE
Long Arm Extended Slide Release Lever. Smaller hands? Not a problem. Just a quick flick with your thumb whole maintaining line of sight and a continuous grip. Never lose your sight picture!
BOTTOM
Long Arm Extended Slide Release designed with 35 degree bend. Allowing those with smaller hands to use the pad of their thumb to access the Release. Lightening fast ammunition switchovers!
Levers for the Knoxx Stocks are made on an "As Ordered" basis. These levers are a bit more involved to make than those above, and are not frequently ordered.
These levers are made specifically for the Knoxx Recoil Reduction and Spec. Ops stocks. If ordering for a Knoxx Stock, please contact us prior to placing your order
We are not like any other company out there. Most will give you a limited warranty on your gear. Well, we feel differently. We guarantee 100% that you will be happy with our products or service. If for ANY reason at ANY time you are unhappy, or would like your extended slide release lever swapped out for the stock slide release lever, shoot us an email to let us know that we should be expecting your trigger assembly. We will change out or reinstall your stock slide release lever for you FREE OF CHARGE, all you have to do is pay the cost to ship it to us. That's it.
This is the way things used to be done back in the day, and its the way they will continue to be done. Refunds shouldn't be a hassle, and we agree. If for any reason you want to return your extended slide release lever to us for a refund, we have no problem issuing that refund. NO QUESTIONS!

How's that for customer service?
The levers below are a direct bolt in replacement for the stock slide release levers on the following shotguns:
Mossberg 500
Mossberg 590
Mossberg 590A1
Maverick 88
Levers for the shotguns listed below are CUSTOM ORDER ONLY: